"MT. MISEN" IN MIYAJIMA, HIROSHIMA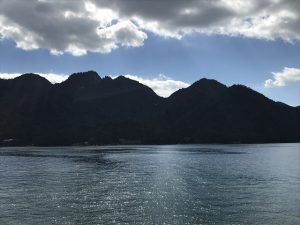 💡 Looks like Sleeping Buddha (facing up)
 🙂 Pictures and reports are what I actually seen and taken.
Features
☆ Height: 535 m above sea level.
☆ Good for the self activity in Miyajima.
☆ Cable cars are available up to 433 m.
< To the summit >
➡ Ride: about 20 min.
➡ Hiking: about 40 min.
☆ All Hiking courses are also available.
< To the summit >
➡ about 1.5 ~ 2 hours
☆ Known to be the famous sacred mountain.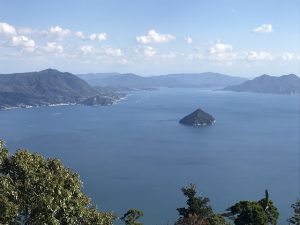 "Miyajima Ropeway"
💡 Consisted by 2 sections.
Bottom: "Momijidani" Station
↓↑
Transfer: "Kayatani" Station
↓↑
Top:       "Shishiiwa" Station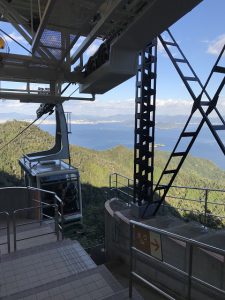 Fares
<Round Trip>
Adult: JPY 1800
Child: JPY 1000
<One way>
Adult: JPY 1000
Child: JPY   500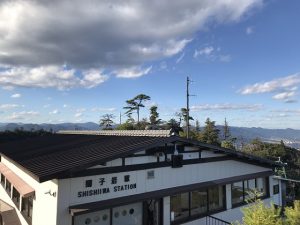 < Shishiiwa Station >
💡 The last place of purchasing drinks!!
Recommended Spots
💡 These spots are around the summit>
above "Shishiiwa Station."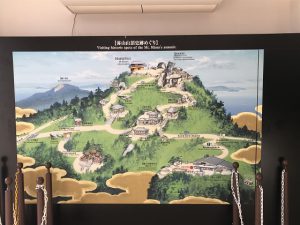 #3 "KIEZU-NO-HI"= "The Eternal Flame"
💡 This flame kept for 1200 years!!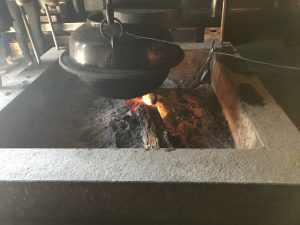 💡 OK to drink a cup of boiling water.
Believed to be good for your health.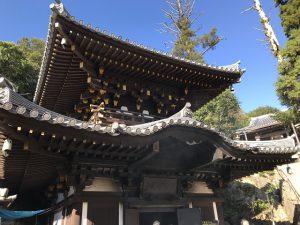 Located at "Reikado Hall"
#2 "KUGURI-IWA"
= "The Path under the Rock"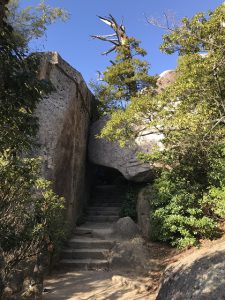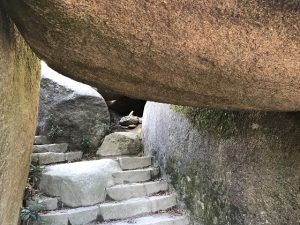 😯 Strangely arranged by nature.
#1 "Mt. Misen Observatory"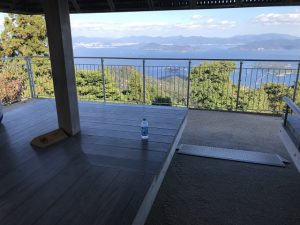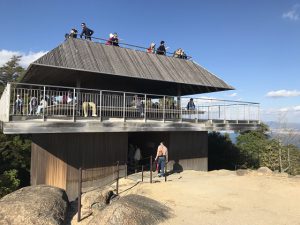 💡 360 ° view on the top!!
Toilets are also available.
Access
Located at Miyajima Island, Hiroshima
From Hiroshima City To Miyajima Island
JR Hiroshima Station → JR Miyajimaguchi
by  Train approx. 30 min.
&   Ferry: approx. 10 min.
For taking "Miyajima Ropeway"
From Miyajima Pier To Momijidani Station

by walking  approx. 25-30 min.
💡 behind "Itsukushima Shrine"
Please search "Momijidani Station"
on Google Map.
From my point of view 🙂
Miyajima Island is now well known for "Itsukushima Shrine."  If you have plan to visit there, strongly recommended to climb up to "Mt. Misen" to see the view from the summit if the weather is nice.
Riding from "Momijidani" Station, if you use the cable car, you will arrive "Shishiiwa" Station.  From there, quite some more up and down paths are expected to the summit.  Please wear the comfortable shoes for walking and nice to have a bottle of water with you.
Great views are guaranteed!!
By the way, "Momiji-dani" means "autumn leaves/Japanese Maples" and "valley."  You can also enjoy the color of leaves if visiting around mid-November.
Thank you for reading my report. 🙂




References
Miyajima Ropeway
Website: http://miyajima-ropeway.info/english/
Pictures are taken by mie.
All are as of 2019.