SHAVED ICE "SHIROKUMA BY MUJYAKI" IN KAGOSHIMA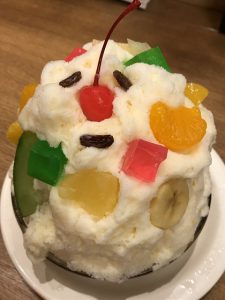 🙂 Pictures and reports are what I actually seen and taken.
What is "SHIROKUMA?
"Shirokuma" is the nickname of the famous shaved ice decorated with condensed milk & some fruits, started by the cafe "MUJYAKI" in Kagoshima.
💡 "Shirokuma" means "White Bear"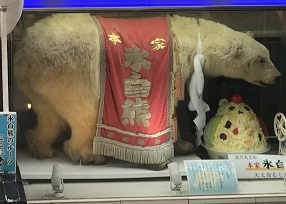 The Cafe "Mujyaki"
There are many different types of "Shirokuma" cafes in Kagoshima.
However, strongly recommended to taste the original fresh-made at the cafe "Mujyaki" since 1946.
💡 The way of shaving ice tastes nice.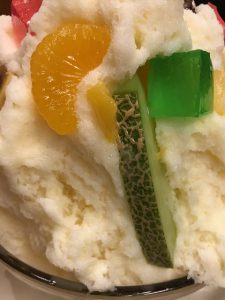 🙂 Unforgettable Taste!!
Price Range
Small :    around JPY 600~
Regular : around JPY 800~
💡 Many flavors are also available.
Matcha, Coffee, Pudding, Yogurt, Chocolate and more.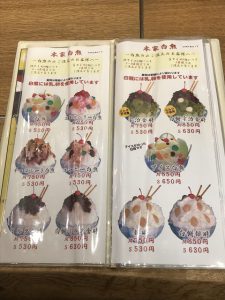 How to eat like locals
💡 Relocate and play with the face parts!!
"Original: Looks strong"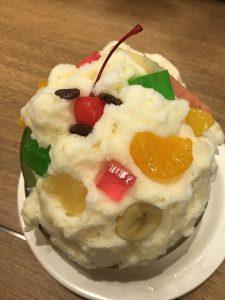 ↓
"Arranged: Now crying"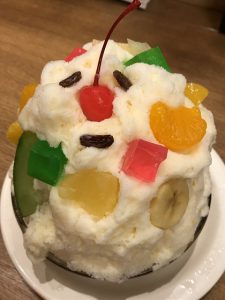 The Location/How to get there
Located at:
"Tenmonkan Shopping Streets" in Kagoshima.
By Tram : The Closest Station:"Tenmonkan"
💡 10 min. away
from JR Kagoshima Chuo Station.
Please search "mujaki" on Google Map.
💡 A branch is also open at Amu Plaza Kagoshima. Located next to JR Kagoshima-Chuo Station.
The Shop Sign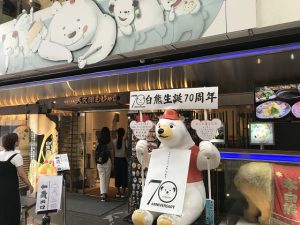 🙂 The big white bear is always there.
References
Pictures are taken by mie.
"Mujyaki" website: Japanese only
http://mujyaki.co.jp/
All are as of 2019.




From my point of view  🙂
"Shirokuma" is very popular in the southwest of Japan, especially in Kyushu area.  If you go to the grocery shops in Kyushu area, you can also find the packaged version of "Shirokuma" but the ice texture is quite hard.
Compared to the packaged version, the fresh made "Shirokuma by Mujyaki", eating in, tastes totally different.  It seems not possible to shave the ice like that in other places.  Since it can be tasted only in Kagoshima, that makes so special in Japan, too.  As of 2019, no branches are available yet outside of Kagoshima.
"Mujyaki" is open not only in summer season but also in winter.  If you have any chance to visit Kagoshima, why not try the unique shaved ice!!  I hope you enjoy!
Thank you for reading my report  🙂