GENERAL "TAXI/CAB" IN JAPAN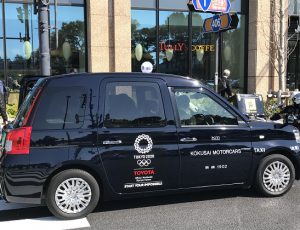 🙂 Pictures and reports are what I actually seen and taken.
Features
☆ By Meters. No tip is required.
☆ Additional fee may be applied when called or reserved.
☆ Time fee will apply when under 10 km/h.
☆ Highway fee applies if used.
☆ 20% additional fee on 22:00~05:00.
☆ Doors are operated by the taxi driver.
☆ English speaking drivers are not many.
☆ Taxi starting & additional fares are different by prefectures.
If in the cities
💡 It is safe & easy to catch a taxi on roads.
💡 Usually waiting at the train stations.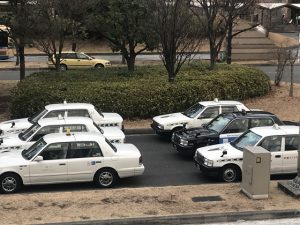 If not in the cities

not easy to catch on roads.
Need to call the local taxi company.
Fare Examples
<Normal Car: Day Time> Approx.
💡 Vary due depends on the traffics.
| | | | |
| --- | --- | --- | --- |
| Fares: shown in <JPY> | 1 km |  5 km | 10 km |
| Tokyo | 410 | 1770 | 3450 |
| Osaka | 660 | 1540 | 2900 |
| Kyoto | 450 | 1650 | 3250 |
| Hiroshima | 630 | 1510 | 2790 |
| Okinawa | 550 | 1180 | 2160 |
Payments
Cash
Credit Card
IC Card (Suica etc…)
💡 Cash is still the most used way of payment in Japan.

QR and other way of e-payment is still on the way as of 2019.
Recommended APP
Most of the time in cities,
catching on roads are easy in Japan.
So using APP is not really needed in Japan yet.
If I choose one,
🙂 "Japan Taxi"
Nationwide.
Shown in English and other languages.
Cautions

"Called/Reserved Fee"
Even calling by APP, the fee may be applied.

"Uber"
The taxi fare is strictly controlled by Japanese government so that the use of Uber in Japan cannot provide the economical fares like other countries.
References
Websites:  Written in Japanese only
Pictures are taken by mie.
All are as of 2019.




From my point of view 🙂 
Compared to the other Asian countries, the taxi fares in Japan are quite expensive due strictly controlled by Japanese government.
So Japanese people have the tendency of not to choose taxis frequently but to take trains and buses instead.  For most of the Japanese people, there would be the reasons to take taxis, such as you are very tired to take crowded train or by severe weathers and so on.
In the cities, trains are going frequently and working on time.  If you don`t mind the stairs and crowds, it may be more convenient using trains instead of taxis in Japan.
Thank you for reading my report. 🙂