BUTABARA "YAKITORI HACHIBEI"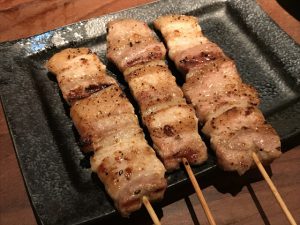 🙂 Pictures and reports are what I actually seen and taken.
What is "Yakitori"?
"Yakitori" is the grilled small pieces of meats/vegetables/mushrooms with skewers.
Mostly, many parts of chicken are served in nationwide but could be other kinds of meats depends on the regions.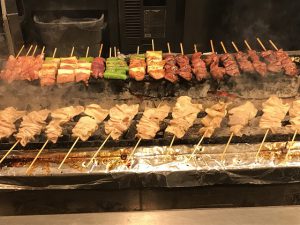 What is "BUTABARA"?
"BUTABARA" means "Pork Belly."  Usually available on the south west region.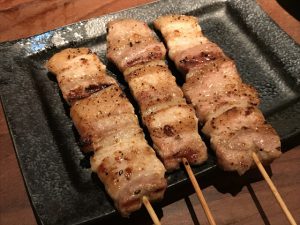 Features
☆ Famous for serving,
"BUTABARA"="Pork Belly"
☆ Cabbages with the special citrus sauce are also famous.
☆ Other kinds of Yakitori are also available.
☆ The high-graded charcoal are used when grilling.
☆ The menu is stated in English also.
Price Range
1 skewer:     around JPY 200~400
Sides:           around JPY 500~1000
Desserts:      around JPY 400
💡 If eating in Tokyo Branch,
the prices may vary about 1.5 ~ double.
 😯 "Otoshi" ="Service Charge"
Otoshi Charge: around JPY 500 per person
This is like a traditional charge at some restaurants in Japan.
Stated on the menu if needed or not.
💡 Automatically added on your bill when seated.
It is mandatory to pay per person.  Instead, these restaurants serve a small appetizer per person.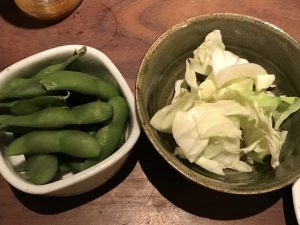 How to order like locals
When we order, we are asked to choose what to grill with:
"SHIO" means "Salt"
"TARE" means "Sauce" (Teriyaki)
My Recommendation
"BUTABARA" with Salt
Pork Belly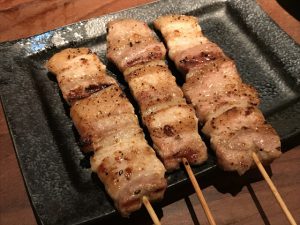 "ASPARAGUS ROLL" with Salt
Asparagus rounded by sliced pork or bacon.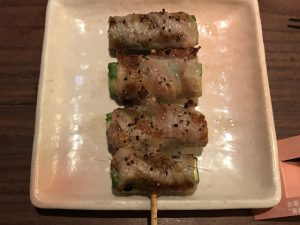 "KAWA" with Sauce
Skin (Chicken)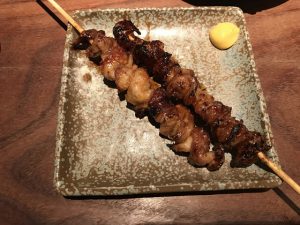 "KIMO" with Sauce
Liver (Chicken)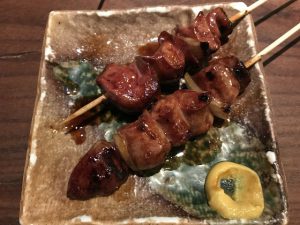 The Location / How to there
FUKUOKA – Origin
FUKUOKA – 7 Restaurants
Please search on Google Map.
"YAKITORI HACHIBEI FUKUOKA"
"BUTABARA TO THE WORLD"
➡ TOKYO –     1 Restaurants
Please search " YAKITORI HACHIBEI TOKYO" on Google Map.
The Shop Sign

References
"Yakitori Hachibei" website:
https://hachibei.com/en/
Pictures are taken by mie.
All are as of 2019.




From my point of view  🙂
"Yakitori Hachibei" holds their company slogan,"BUTABARA TO THE WORLD."  It is quite a regional food in Japan, so it is very rare to find "BUTABARA" on the menu of Yakitori Restaurants outside of the region, even in Tokyo.  "Yakitori Hachibei" started a branch in Tokyo so if you want to try, this is the place to taste it in Tokyo.
By paying the "Otoshi," you will be served an appetizer "Cabbages with the special citrus sauce", which is also famous.
My friend from Norway liked both "BUTABARA" and the "Cabbages" very much!!  I hope you will also enjoy it!!
Thank you for reading my report  🙂