Taking the reduced calories are easily possible by the various products produced by "KANTEN PAPA."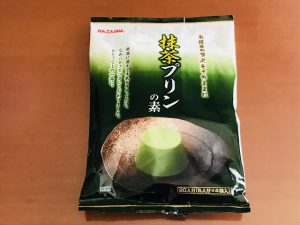 FLAN – MATCHA GREEN TEA
What is "KANTEN" ?
"KANTEN" means Agar in Japanese.  The essence is extracted from the Agar Weeds by boiling water and freeze-dried.  It is like the 100 % botanical version of gelatin.
💡 Plenty Dietary Fibers
💡 Almost Zero Calories*
*The arranged products have some calories but less.
What is "Kanten PAPA" ?
"KANTEN PAPA" is the probably the famous company name for producing various arranged products made by Agar established in 1958.  The headquarter is in Nagano.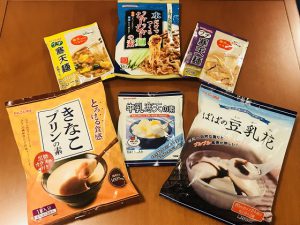 Products and Price Range
💡 Various kinds of tastes are available.
All prices are per package.
☆ Jelly Power – around JPY 800
< 1 package contains 5 pouches, 1 pouch for 6 portions.>
☆ Flan Powder – around JPY 1000
< 1 package contains 3-5 pouches, 1 pouch for 5-8 portions.>
☆ Noodles – around JPY 200~300
< 1 package contains for 1 portion.>
☆ Risotto – around JPY 500
< 1 package contains for 3 portions.>
☆ Soup – around JPY 800
< 1 package contains for 8 portions.>
My Recommendation
💡 FLAN "KANTEN PAPA MATCHA GREEN TEA"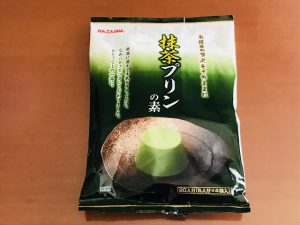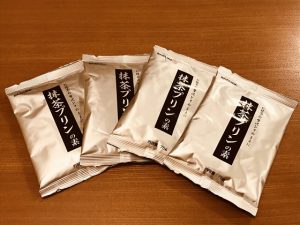 <How to make the flan>
1 pouch = about 5 portions
1. Open the pouch to the bowl.
2. Add 200 ml of the boiled water (above 90 Celsius)
3. Stair well for one minute.
4. Add 100 ml of milk and stair.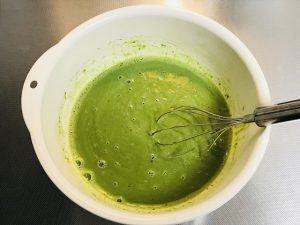 5. Pour them into small cups.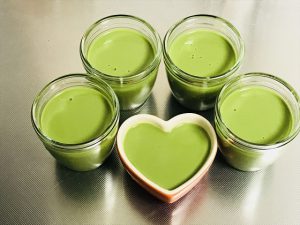 6. Put into the refrigerator about 2 hours.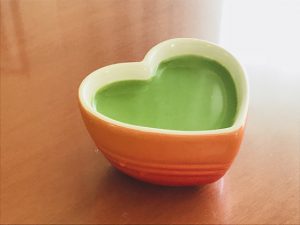 Where you can buy
NAGANO – origin
TOKYO / OSAKA / NAGOYA / FUKUOKA / SAPPORO and more.
For more information, please search "KANTEN PAPA" on Google Map.
The company website is in Japanese only.
:idea: Not all kinds but some of them are also available at grocery shops.
The Shop Sign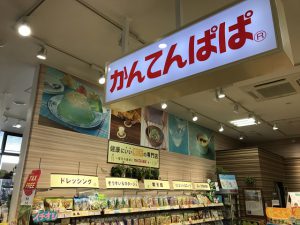 AT KARUIZAWA, NAGANO
References
"KANTEN PAPA" website
https://www.kantenpp.co.jp/
All pictures are taken by mie.
All are as of 2018.




From my point of view  🙂
"KANTEN" is the one of the Japanese traditional food accidentally found about 400 years ago in the freezing night.  "KANTEN" means "Freezing Weather" in Japanese.
When we talk about "KANTEN," we must know about "TOKOROTEN" as well.  "TOKOROTEN" is made by the same ingredients and produced in the cool temperature.  On the other hand, "KANTEN" is the freeze-dried version of "TOKOROTEN."
The headquater of "KANTEN PAPA" is located at the City of Ina in Nagano where is very famous for producing "KANTEN" in Japan.  Also, known for "Freezing" and "Dry" place in the winter.  No wonder, very suitable.  If you visit Ina in Nagano, it may be interesting to stop by "KANTEN PAPA Garden."  There are shops and restaurants in the Garden also.
Due to the technology, the new type of "KANTEN" in powder, flakes, noodles are also available these days.   It is very popular as the replacement foods among Japanese people when we sometimes concern about calories.
At last, other than the flan I recommended, please try "Anmitsu" which is the traditional Japanese jelly sweet if you have any chance in Japan.
Thank you for reading my report.  🙂