GRILLED EELS "KYOMARU UNAGI"
THE FAMOUS HUGE GRILLED EELS (UNAGI) BOWL FOR THREE TO FIVE PEOPLE AT "KYOMARU" UNAGI RESTAURANT IN NUMAZU, SHIZUOKA.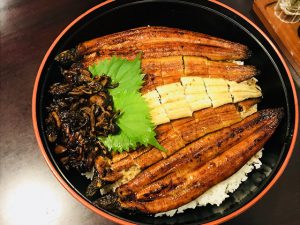 Features
☆ "UNAGI" means "EEL" in Japanese.
☆ The Restaurant directly managed by the Unagi wholesaler.
☆ The size and the quality of Unagi is very fresh and tasty.
☆ The price is also very reasonable to the customers.
☆ There are some special Unagi bowls on the menu.
Price Range
Unagi Set Menu per person – around JPY 3000~
My Recommendation
UNAGI SET MENU "YOKOZUNA"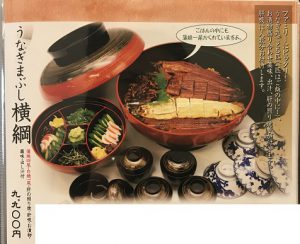 <Price: JPY 9900 for 4 or 5 people>
♦ 5 Big Unagi 770g (Teriyaki 4/ Plain 1)
♦ Rice: 2Kg
♦ Bowl Diameter: 37cm
♦ Teriyaki Unagi livers
♦ Soups with Unagi livers (each person)
♦ Japanese Pickles
♦ Seasonings/Toppings
(Wasabi, Green Onion, Seaweeds)
💡 Unagi Set Menu " Ozeki" is also available.
<Price: JPY 7100 for 3-4 people>
– Smaller the size and contents than "Yokozuna."
How to eat
1. Please take some into your own bowl.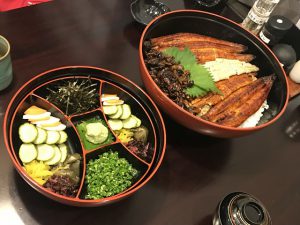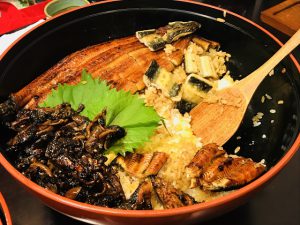 2. Put on seasonings as you like and eat.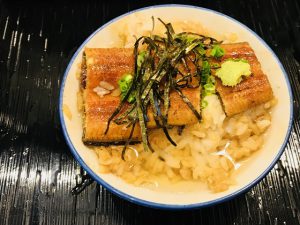 💡 For your second time: Taste Different!
Pour the Soup into your own bowl.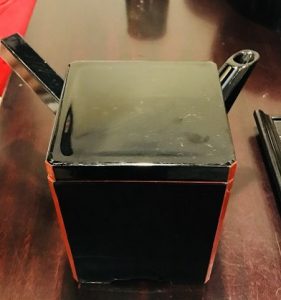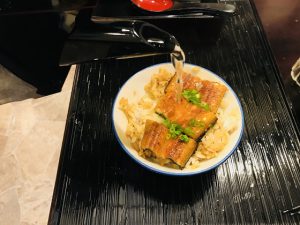 How to get there
By Train and Taxi
From/To "Tokyo"
By Shinkansen
JR
"Tokyo"Station ↔ "Mishima"Station ↔ "Numazu"Station
<Duration> 1 hour
<Fare>       JPY 4720
And Taxi
<Duration> 15 minutes.
By Car
Free Parking Spaces are available. (Limited)
"Kyomaru Unagi" on Google Map is very helpful.
Address:
33-7, Kasuga chou, Numazu City, Shizuoka
The Shop Sign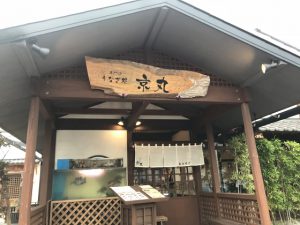 References
"Kyomaru Unagi" website:
http://www.unagidokoro.com/
All pictures are taken by mie.
All are as of 2018.




From my point of view  🙂
It is the Japanese way of eating Unagi which is grilled with "Teriyaki" taste.  Actually, "Kabayaki" taste is the right way of saying in Japanese language but the taste is the same.  Only the process of cooking is a bit different.  Since "Teriyaki" taste is recognized well around the world, I use "Teriyaki" instead of "Kabayaki" for your understandings.
As you may noticed, there are some seasonings are served with the Unagi bowl.  You can put them all or one or two.  It is your choice.  After you get boring the taste, then you can pour the soup over your bowl.  My recommendation is " Wasabi" on top.  I believe it is the must seasoning to enhance the taste of the "Unagi" to the maximum!!
Well, the price of Unagi is getting higher and higher so it is very rare for Japanese people to eat Unagi nowadays even buying from the grocery stores.  However, "Kyomaru Unagi" is the splended restraunt!!  The price is very gentle to the customers always.  Also, I think it is the very fantastic idea that the "Yokozuna" is on the menu.
The location is a bit far from Tokyo but the "Yokozuna" at "Kyomaru Unagi" is strongly recommended!!
Thank you for reading my report.  🙂