"TENGU-JIRUSHI" IS THE BEST BRAND OF EDAMAME PRODUCED IN GUNMA.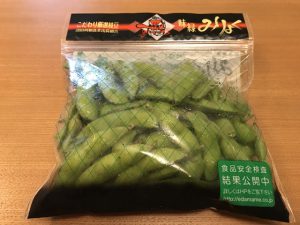 "MIRYOKU" TENGU-JIRUSHI
What is Edamame?
Edamame is the dish of boiled green soybeans.  The green soybeans are known to be nutritious such as rich in protein, vitamins, and minerals.
Features: TENGU-JIRUSHI
☆ The most tasty and famous brand of Edamame.
☆ Produced in Numata area, only in the specific area of Gunma Prefecture.
☆ The price is higher than the other Edamame produced in Japan.
☆ The size is bigger than the other Edamame produced in Japan.
☆ Available period: Summer (July-September)
☆ Trademark is TENGU (a long-nosed red goblin)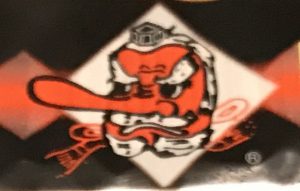 Price
1 package (250 g): about JPY 400-500*
*as of 2017
My Recommendation
"MIRYOKU"
The highest grade Edamame in Tengu-jirushi brand.
💡 Sweeter! This is the best quality of Edamame produced in Japan!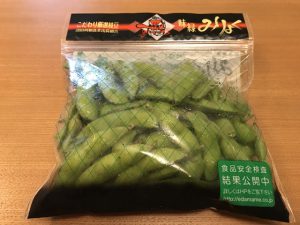 Where to get?
Nationwide
💡 Available period: Summer (July-September)
♦ Grocery Store
♦ Farmer`s Market
♦ Supermarket
♦ Department Store (Grocery Area)
*May not be available at some of the above places.
How to cook?
1 package (250 g)
With pods, Wash by water and rub with salt.

Leave them with salt for about 5 minutes.

Put into the boiling water with salt and boil them for 4-5 minutes.

Soak them into ice water for 1 second.

Drain water and leave them in the fridge to cool down.

Sprinkle salt and remove pods before eating.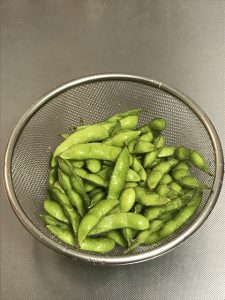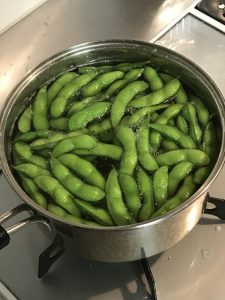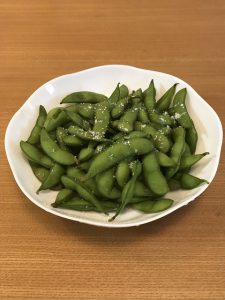 References
Shiono Shop website: http://edamame.co.jp/
*Written in Japanese Only
All pictures are taken by mie.
All are as of 2017.




From my point of view  🙂 
Edamame becomes very popular food among not only Japanese but also foreigners visiting Japan.  In summer, you can see Edamame as an appetizer or as salad or sometimes soup on most of tables in eating places.
If you have any chances to cook Edamame, I strongly recommend "MIRYOKU."  The price is a bit higher but understandable because its quality is outstanding.  Once tasted, it is hard to go back to the other kind.  It is sweeter and bigger compared to the other kind!
Of course, the cooking process will greatly affect its taste.  Because it is very simple, it may be more difficult.  Probably it is similar like when you make pasta.  It is quite difficult to finish boiling it to al dente in right amount of salt and water.  In Japan, the best condition of Edamame is a bit hard and mild salty.  In addition, it is more tasty if boiled Edamame goes to cooling process before eating as I write above.  Some people prefer the "hot" Edamame.  It may be fun to compare the differences.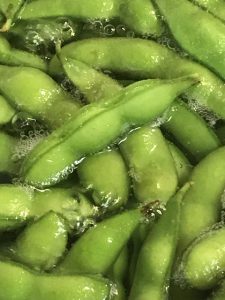 Enjoy your own way of Edamame!
Thank you for reading my report  🙂