THE MOST RECOMMENDED CAKE & CAFE SHOP IN JAPAN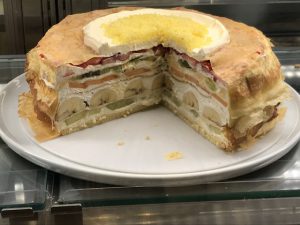 Features
☆ Established in 1981 at Nagoya in Japan.
☆ EAT IN
💡 must order one drink per person
☆ TAKE OUT is also available.
☆ More than 10 kinds of cakes.
☆ The size is out of Japanese size.
➡ One whole size
-the diameter of 24cm
➡ One cut size
-Divided in 10 pieces of the whole size
☆ Well-balanced taste (not too sweet)
☆ The whip cream is excellent!!
Price Range
One whole size – JPY 7000 ~JPY 12000
One cut size – around JPY 700 ~ JPY 1200
One drink – around JPY 600 ~ JPY800
My Recommendation
Mille Crepes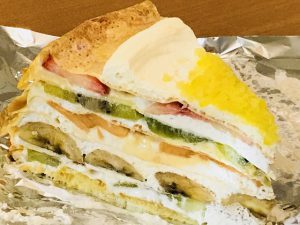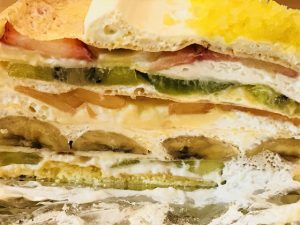 💡 Various fruits and whip cream in six layers.
Strawberry Cake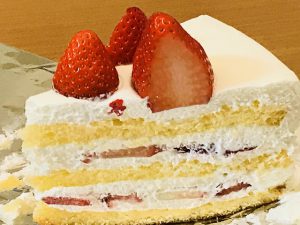 💡 This is "THE MOST POPULAR KIND OF CAKE MADE IN JAPAN"
Where to find in Japan
NAGOYA – origin
TOKYO / YOKOHAMA / OSAKA  / KYOTO / KOBE
For the latest information and the shop address, please refer the "HARBS" website.
http://www.harbs.co.jp/harbs/eng_shop.html
THE SHOP SIGN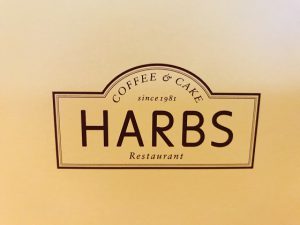 References
HARBS website:
http://www.harbs.co.jp/harbs/eng_top.html
All pictures are taken by mie.
All are as of 2017.




From my point of view  🙂 
Most of the sizes in Japan is generally small compared to the other countries.  So in most of the cases, one is not enough for most of people.  But the cakes at "HARBS are different."   As stated as the concept of HARBS, the one satisfies and is enough for us very much.
Yes, the price is almost twice as much higher than the other shops so I hesitated to buy one for the first time.  But once taste it, it is very difficult to go back to the other regular cakes selling in Japan. No wonder this is recognized as the No.1 cake shop in Japan.
Now I always go to HARBS on my birthday and on the other special occasions.  According to my statistics, HARBS is the No.1 cake shop in Japan.
Generally, cakes made in Japan is quite unique compared to the western countries where are the origins of cakes.  The texture is more lighter and very soft.  The whip cream is like bubbles. Not too sweet overall.  It maybe important to feel the balance in taste.
If you have chance to visit the area where HARBS are, I strongly recommend trying.
Enjoy!
Thank you for reading my report  🙂