JAPANESE CUISINE FOR NEW YEAR "OSECHI"
THE TRADITIONAL JAPANESE "OSECHI" WORLD MADE BY THE PROFESSIONALS FOR EVERY NEW YEAR.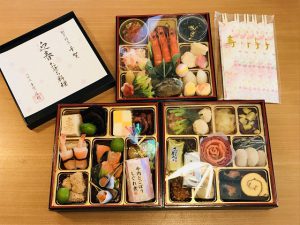 Features
☆ The first meal to eat on every 1st of January.
☆ The contents and tastes are different by regions.
– the East way
– the West way
☆ Prepared in the specific tiered boxes as one complete set.
– Traditional: 4 boxes
– Nowadays: 3 boxes
☆ Each content has given a meaning with Japanese wording.
☆ Most of all are preserved foods.
– Mostly: Sweet or Salty or Sour, and Cold.
☆ Not popular among young Japanese people.
Price Range
One Set:  JPY 10,000 ~ JPY 2,000,000 or more
 💡  Poplular Range JPY 15,000 ~ JPY 50,000
Contents and Meanings
Let me pick up some  🙂
< KURIKINTON >
💡 Made by chestnuts and sweet potatos.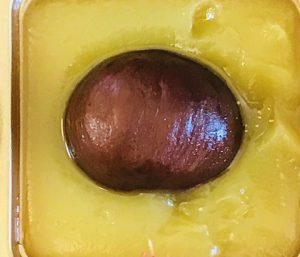 Meaning: Wealth.
< KUROMAME >
💡 Made by black soybeans & sugar.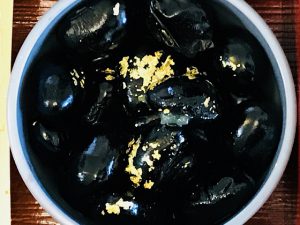 Meaning: Health.
< NAMASU>
💡 Made by carrots, white radish & vinegar.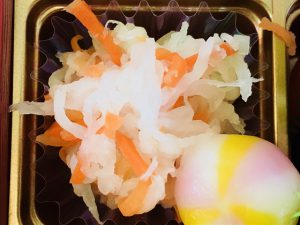 Meaning: Happiness. Peace.
< KAZUNOKO >
💡 Made by Herring Roe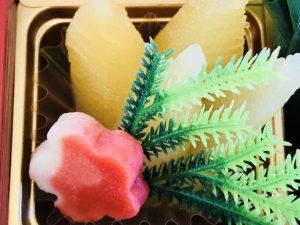 Meaning: Prosperity
< AWABI >
💡 Abalone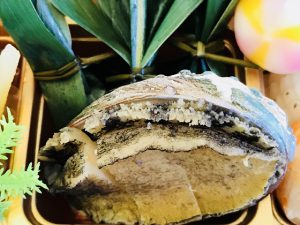 Meaning: Happiness. Development.
< EBI>
💡 Shrimp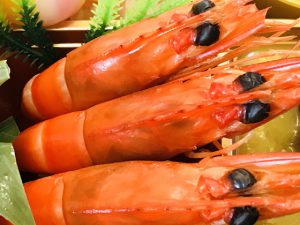 Meaning: Living long life.
My Recommendation
SHOP
<SENGAYA> in Nagoya
💡 Reasonable price and well-balanced taste!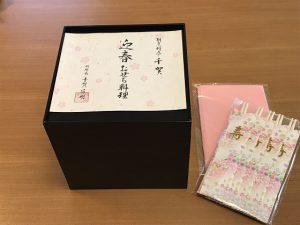 Where to buy? How to buy?
☆ Department Store
☆ Internet
💡 The advanced reservation is must by the mid-December.
💡 Please arrange the delivery service to your house arriving on 30 or 31 December.
References
SENGAYA website: Japanese only
http://www.sengaya.co.jp/osechi.html
All pictures are taken by mie.
All are as of 2018.




From my point of view  🙂 
Most of Japanese used to make "OSECHI" at home.  It took very much time and effort to make them all at the end of every year.  Instead, no need to cook for the first 3 days of the every new year because "OSECHI" is known as the kind of preserved foods.  In other words, Japanese women were exempted from cooking works, and allowed to take rest for a while.
Nowadays, "OSECHI" is not so popular making at home.  It is time consuming… Also we now have more options for what we want to eat.  Surprisingly, most of the shops and eating places are open even in the new year period in Japan.  Caterings are also available so no need to cook if you don`t want to.
However, most of Japanese still cannot ignore the presence of "OSECHI."  I think that`s way its catering services are very active in Japan.
As I stated the above, the taste of "OSECHI" is up to the regions throughout Japan.  The traditional East way tastes more salty than the West.  The traditional West way tastes more sweeter than the East.  It is quite obviously different.  "SENGAYA" is from Nagoya which located in the middle of Japan.  So the taste is very much the middle.
I picked "SENGAYA" as my recommendation because it is the standard taste.  Probably, most of Japanese people are easy to accept the taste in spite of which regions they are from.  Also, very reasonable price but very tasty.
Anyways, it is fun to try various "OSECHI," too.  If you have any chances, please try to compare and enjoy "OSECHI" world in Japan.
Thank you for reading my report  🙂