SUSHI RESTAURANT "DAIKISUISAN"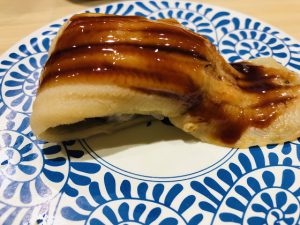 🙂 Pictures and reports are what I actually see and taken.
Features
☆ Freshness is outstanding.
➡ Directly provided by suppliers.
☆ Prices are very reasonable.
☆ The sashimi parts are big/sliced thick.
☆ OK to order if not on the conveyor belt.
☆ Take-away/out is also available.
Price Range
Sushi Price: Per dish
-usually 2 pieces (1 piece if stated)
-According to the kind of fish,
➡ JPY 100/150/200/250/300/350/400/500
💡 Distinguished by the designs and the colors of dishes.

My Recommendations
"Oh-ni-anago" (A big conger eel)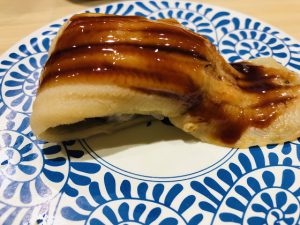 "BURI" (Yellowtail: Winter only)
💡 "KAN-BURI" (Premium)
Strongly recommended!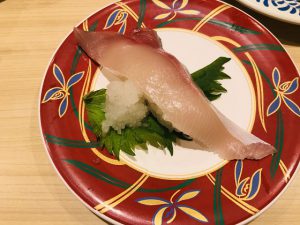 <Special Dish>
"Maguro-Zukushi" (Many kinds of tuna)


<Side Dish>
"Chawanmushi"
(A traditional steamed egg soup)
💡 Rich in fish broth taste with mushroom and so on.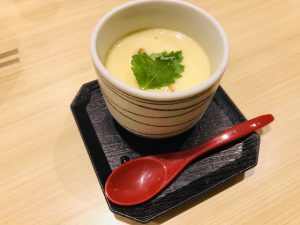 How to order
➡ Please take the dishes going around the conveyor belt.
OR
➡ Please press the button to order from the menu.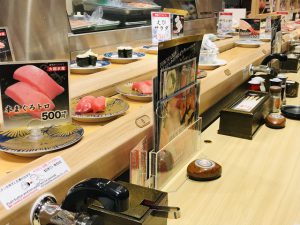 <The followings are free of charge>
– Japanese tea (self making on the table)
– Pickled ginger (on the table)
– Wasabi (going around on the belt)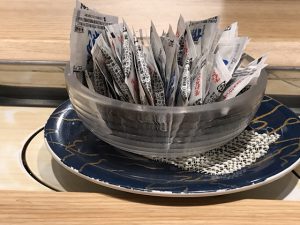 How to Pay
💡 Please pile up your dishes aside.
Please call the staff for the bill.
-The staff will count and calculate all the dishes you have taken.
Please take the bill and proceed to the cashier.
Sushi Making Seminar at Kyoto Tower Sando
💡  Only at Kyoto Tower Sando 2F
Reservations are must for this seminar.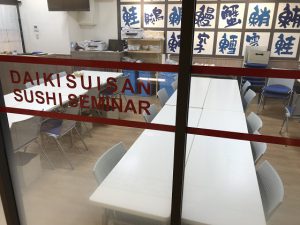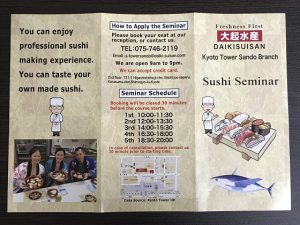 The Locations
Osaka, Kyoto, Nara, Kobe
Please search "daikisuisan sushi" on Google Map.
For the latest information and details
http://www.daiki-suisan.co.jp/shop/
In Japanese only.
Please use the translator tool on your browser.
The Shop Sign

References
DAIKI SUISAN website:
http://www.daiki-suisan.co.jp/english/
All pictures are taken by mie.
All are as of 2019.




From my point of view 🙂
If you are looking for the more quality than the 100 YEN sushi conveyor restaurants, I think "DAIKISUISAN" would be your choice if you are around Kansai area as I stated above.  It is well known among Japanese local people but it seems not yet known among foreigners… as of 2019.  This following picture is taken at Kyoto.  You can tell how fresh they are!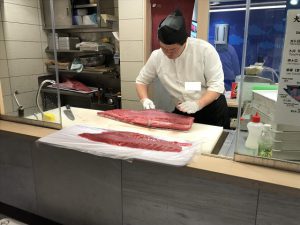 Still with these qualities, prices are not so expensive.  I used to live around the Kansai area but now living in Tokyo area.  It is very sad that I still cannot find the such equivalent level of conveyor sushi restaurants in Tokyo area yet…  I really miss "Daikisuisan."
Thank you for reading my report. 🙂