DEEP FRIED WITH SKEWERS "KUSHIKATSU TANAKA"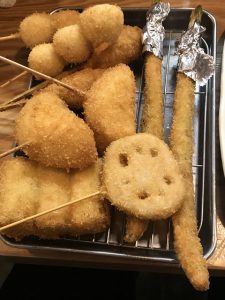 🙂 Pictures and reports are what I actually seen and taken.
What is "KUSHI-KATSU"?
<Around Osaka area>
"KUSHI" means skewers and "KATSU" means cutlets.
💡 However, not only meat.  It can be vegetables and fish also.
<Outside of Osaka>
Instead, they are called "KUSHI-AGE."
"AGE" means deep fried.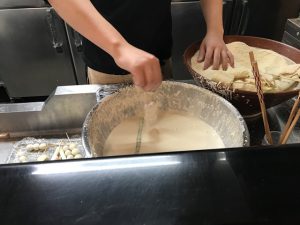 Features
☆ Local dish originated in Osaka.
☆ Very crispy due lightly coated cutlets.
☆ Fresh hot due cooked after orders.
☆ One rule is strictly applied.
➡ Re: the sauce in the container.
☆ Cabbages are free of charge.
💡 Free refill by asking the staff.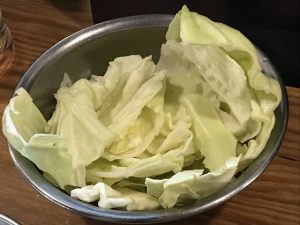 Price Range
Skewers
– JPY 100~200 per skewers
Sides & Desserts
-around JPY 300~500
Noodles
-around JPY 500~700
My Recommendation
"KUSHIKATSU GYU" (BEEF)
"BENISYOGA" (RED GINGER)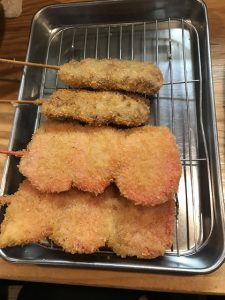 "ASPARAGUS"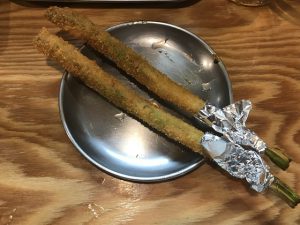 "UZURA" (Quail Eggs)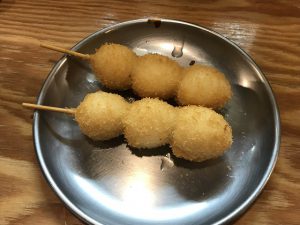 Side:
 🙂 "NINNIKU MARUAGE"
Deep fried garlic with 💡 Miso Sauce.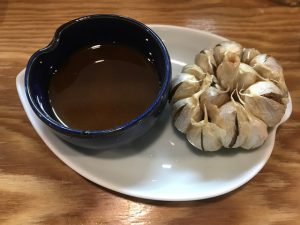 How to eat like locals
There is a container on the table.
Please dip it in the sauce before eating.
💡 "One rule is strictly there"
➡ ONLY ONE TIME DIP IN THE SAUCE CAN PER SKEWER.
It is because the next customers also use the same sauce in the container.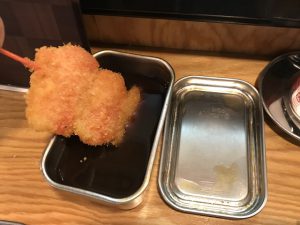 The Locations
OSAKA, KYOTO, TOKYO, SAPPORO, HIROSHIMA, FUKUOKA and more.
Please search "KUSHIKATSU TANAKA" on Google Map.
The Shop Sign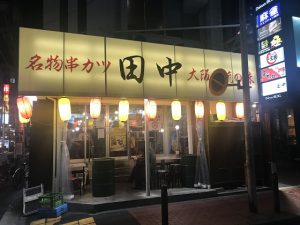 References
"KUSHIKATSU TANAKA" website:
https://kushi-tanaka.com/
Mainly in Japanese/Partially in English.
All pictures are taken by mie.
All are as of 2019.




From my point of view  🙂
They are many "KUSHIKATSU" eating & drinking places especially in Osaka area.  But "KUSHIKATSU TANAKA" is a not too much local but still local.  The table and the chairs are still small but the staffs are very cheerful and helpful.  Also the menu with the pictures would be the great help to order for foreigners. Always a bit crowded, means very popular among Japanese people.
Now located at many places in Japan.  If there is one around your visiting place, please try!
Thank you for reading my report.  🙂