This shop is no longer in business.
Due to the great impact of the Coronavirus, Covid 19, unable to keep up their businesses.  However, I keep this article as one of the memories of Japan.
"NAGAHAMA SHOGUN" IS THE AUTHENTIC TONKOTSU RAMEN EATING PLACE WITH FAMOUS SPICY *KARASHI-TAKANA IN FUKUOKA.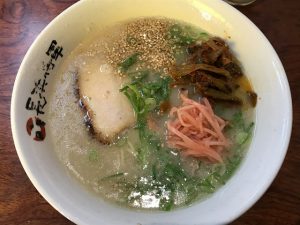 * "KARASHI-TAKANA" is the local famous pickled leaf with chili.
Features
☆ Authentic Tonkotsu Ramen
➡ Not too oily.
➡ Very thin type of noddles.
☆ Secretly popular among local people.
☆ Very famous for adding the spicy "KARASHI-TAKANA."
☆ "KARASHI-TAKANA" is free of charge.
☆ Water is free of charge. (at self-service)
☆ Available only in Fukuoka.
☆ Established in 1988.
Price Range
Ramen:  around JPY 500~
Kaedama: around JPY 100
My Recommendation
☆ Ramen
Noodle Texture:
💡 "KATA"- Firm is recommended.
☆ Gyoza (Dumplings)
Very popular among locals.
Soft and tasty!!  🙂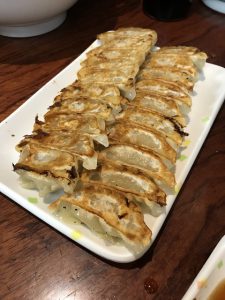 How to order
1. Please take any seat you like.
2. Order your ramen
with your favorite texture.
| | |
| --- | --- |
| "BARIKATA" | Extra Firm |
| "KATA" | Firm |
| "FUTSUU" | Medium |
| "YAWA" | Soft |
How to eat like locals
Please try the following TWO pickles on top of your ramen.
➡ THE PINK
"SYOGA" Pickled ginger
➡ THE GREEN
"KARASHI-TAKANA" Pickled leaf with chili.
💡 The pickles are free of charge!!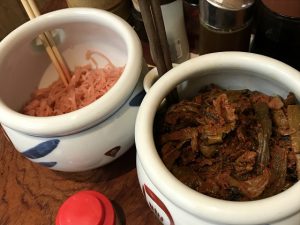 The Additional Order: "KAEDAMA"
"KAEDAMA" is the traditional way of refilling noodles only into your remaining soup.
1. Call the staff and ask "KAEDAMA" with your favorite noodle texture.
2. The staff will refill your ordered noodles only to your remaining soup.:idea: "KATA" is the most popular among locals.
💡 In this way, you pay less amount of money instead of asking the second bowl of ramen.  Also, it is ok to change the noodles texture.
How to Pay
After eating, please go to cashier when you are leaving.
💡 There is no bills ready on the table.
The cashier will confirm the order with you verbally.
The Location / How to there threre
Fukuoka City
Address:
2-5-10, Nagahama
Tel: +81 (0)92-712-3663
Open:
11:00-22:00
11:00-19:00 (Sunday)
Closed on Monday
By Taxi
The closest train station: Tenjin
About 5~10 minutes from Tenjin Station
💡 Please tell your driver "Nagahama Shogun" or the address above.
By Car
No Parking is available.
Pay parking lots are available around.
The Shop Sign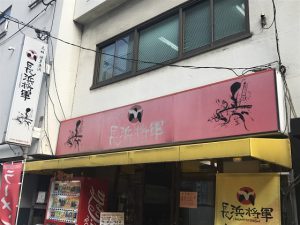 References
"NAGAHAMA SHOGUN" website:
Japanese only
http://www.syogun.co.jp/
All pictures are taken by mie.
All are as of 2018.




From my point of view  🙂
"Nagahama" in Fukuoka is known as the origin of Tonkotsu Ramen in Nagahama style.  It is categorized as Hakata Ramen which is the most three famous ramen in Japan.  This area is located at next to the fish market so that the people working at the market come often to the ramen stalls to eat their meal.  Due these people are very busy working at the market, they wanted ramen to be served in very short time.  That`s way noodles need to be thin and the noodle texture to be "Kata"= Hard to save their time.
There used to be many ramen stalls in "Nagahama" area but not much more.  Instead, many ramen shops are in the buildings now and I think more clean.
"Nagahama Shogun" is my favorite.  It is because the spicy "KARASHI TAKANA" is there on the table.  It is free of charge so you can put it as much as you like.  Some ramen shops also provide "KARASHI TAKANA" but these are usually very little and not too spicy.  If you like spicy, please try the "KARASHI TAKANA" at "Nagahama Shogun."  The quality is very high.  You can tell the difference right away.  But please be careful, it is really spicy.  Enjoy!!
Thank you for reading my report  🙂