"OYSTER BAR HOKKAIDO AKKESHI" IN TOKYO
POSSIBLE TO TASTE IN TOKYO, THE FAMOUS BRAND-OYSTER FROM HOKKAIDO AKKESHI TOWN.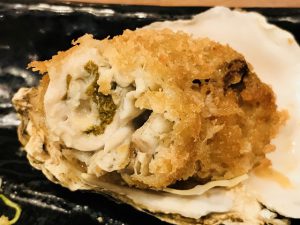 🙂 Pictures and reports are what I actually seen and taken.
Features
☆ Serving the famous brand-oyster from HOKKAIDO AKKESHI TOWN.
☆ Everyday transported by airplane.
☆ Possible to taste the oyster all around the year in this bar.
☆ Bigger in size per piece.
☆ Baked or fried or steamed or in raw is available.
☆ Dining is also possible at lunch time.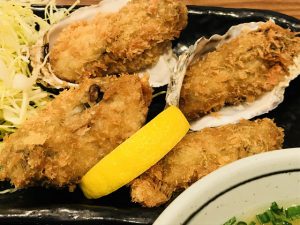 Price Range
The Oyster (One piece)
➡ around JPY 400*~
The set menu at lunch time
➡ around JPY 1500*
My Recommendation
"LUNCE TIME SPECIAL SET MENU"
Time: 11:00 am ~
➡ People starting to be on line from around 10:30.
 🙂 Fried Oyster Set Menu
<4 pieces of the fried oyster + rice + salad + miso soup>
Price: JPY 1200*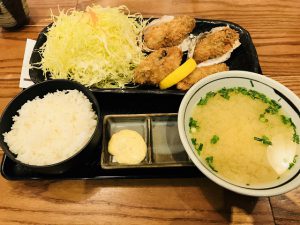 <5 pieces of the fried oyster + rice + salad + miso soup>
Price: JPY 1400*
💡 Very popular, LIMITED TO 100 SETS.
💡 English menu is also available.
*Prices shown are as of 2019.
How to eat like locals

Please try with seasoning on the table.
1st : Oyster Salt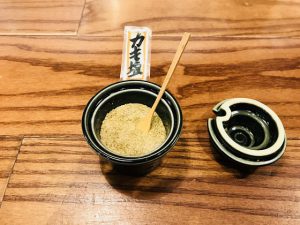 2nd: Sauces
3rd: Tartar Sauce
4th~ as you like
How to get there
Located at
"COREDO MUROMACHI #2" Building on 1st Floor.
Address:
2-3-1, NIHONBASHI MUROMACHI
CHUO-KU, TOKYO
The Closest Station:
2 minutes by walking from there.
By Metro : MITSUKOSHI-MAE Station
By JR      : SHIN-NIHONBASHI Station
💡 It is possible to walk from JR Tokyo Station. 10-15 minutes walking distance.
Please search "COREDO MUROMACHI 2" on Google Map.
The Shop Sign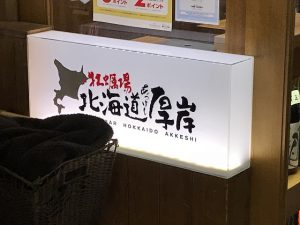 References
"Oyster Bar Hokkaido Akkeshi" website: Japanese only
http://www.funfunction.co.jp/shopinfo/muromachi/
All pictures are taken by mie.
All are as of 2019.




From my point of view  🙂
Usually, the best season for eating oysters in Japan is in the winter around January to February.  However, the brand-oyster from Hokkaido Akkeshi town is available all around the year due to the suitable climate for the oysters in this town.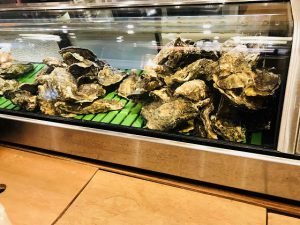 Hokkaido is far away but you can taste them in Tokyo now at "OYSTER BAR HOKKAIDO AKKESHI."  All oysters served at "OYSTER BAR HOKKAIDO AKKESHI" in Tokyo are all this brand-oyster.  It is surprisingly BIG in size!!  Yes, the price per piece is also surprisingly HIGH, too!!  So I recommend going and trying the lunch set menu limited up to 100 sets with the reasonable price.
When I visited around 10:30 a.m., there were already people waiting…  Depends on the day but for sure it must be very popular.
Mostly, it is tasty and possible eating in raw in Japan.  But for some reasons, Japanese people prefer and love eating in fried style.  The fried oyster in Japanese, we call " KAKI FRY."  I hardly see this kind of fried style in other countries, so please try if you have any chances to eat "KAKI FRY" in other restaurant, too.
Once you know the taste of "KAKI FRY," I think… you would like to come back to Japan again.
Thank you for reading my report  🙂