OKONOMIYAKI "TSURUHASHI FUGETSU"
"TSURUHASHI FUGETSU" PRESENTS THE OKONOMIYAKI & MODANYAKI (JAPANESE PIZZA) IN OSAKA STYLE"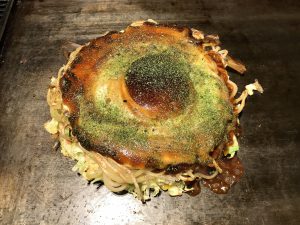 THE PICTURE OF MODANYAKI
What is OKONOMI-YAKI and MODAN-YAKI?
OKONOMI-YAKI
OKONOMI simply means "as you like to put in" and YAKI means "grilling."
The ingredients are (WHEAT FLOUR + WATER) + CABBAGE + EGGS + TOPPINGS.
DASHI (Broth) may be added to enrich the taste of OKONOMIYAKI.
It is very interesting to know that two kinds of styles are now existing in Japan.
Osaka Style is the original version of OKONOMIYAKI which mixes the all ingredients together before grilling.

Hiroshima Style is the secondary version of OKONOMIYAKI which is made by the layers of the ingredients top onto the base of the wheat flour mixed in water.
MODAN-YAKI
MODAN means "more volume" in Japanese language.
To make more volume, noodles are added to OKONOMIYAKI.
TO FINISH UP
After grilled, the OKONOMIYAKI sauce and mayonnaise will be put on the surface of OKONOMIYAKI first, then dried bonito flakes and dried seaweeds are sprinkled on top.
💡  Some Japanese prefer to eat with the mustard paste.
Features
☆ Each table is equipped with one big hot plate. (very close so please be careful!)
☆ The trained staff will grill your OKONOMIYAKI in front of you.
☆ Do not touch your OKONOMIYAKI until you are told that it is ready for eating.
☆ MODAN YAKI is also available.
☆ The menu in English/Chinese/Korean is also available.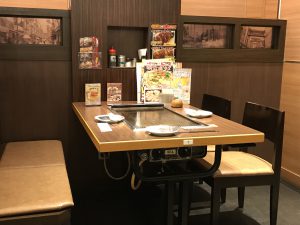 Price Range
around JPY 1000-2000 per person
My Recommendation
💡 Usually, one OKONOMIYAKI is enough for one person. If you go with someone, it may be a very good idea to order different kinds of OKONOMIYAKI or MODANYAKI because the whole can cut into pieces by yourself.  In this way, you can exchange your pieces with others for tasting in variations.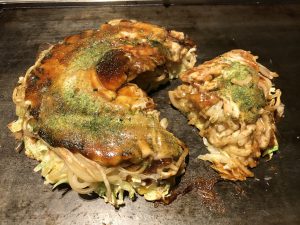 THE BASIC
☆ IKA(SQUID)& BUTA (PORK) OKONOMIYAKI or MODANYAKI
💡 This is the basic combination. All other kinds are also available but this combination is the most popular among Japanese people.
ADDITIONAL TOPPINGS
☆ CHEESE / KIMCHI – very popular
☆ MENTAIKO (SEASONED COD ROE)
💡 MENTAIKO is not always on the menu but sometimes available.  It makes your OKONOMIYAKI a bit mildly spicy and thickend.  Strongly recommended!!
Where  you can find in Japan & How to get there
OSAKA – origin
TOKYO / KYOTO / NARA / NAGOYA / SAPPORO (HOKKAIDO) / FUKUOKA area and more
For the latest information and the address,
please refer the "TSURUHASHI FUGETSU"`s website.  https://fugetsu.jp/en/
THE SHOP SIGN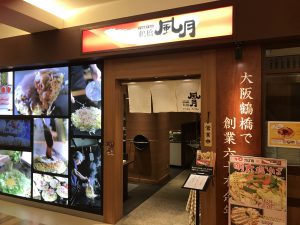 References
"TSURUHASHI FUGETSU"`s website.  https://fugetsu.jp/en/
All pictures are taken by mie.
All are as of 2017.




From my point of view  🙂
At "TSURUHASHI FUGETSU," you can eat the best OKONOMIYAKI made by the well trained staff in the right condition.  It is like an entertainment so fun to watch the process, how to mix the ingredients, how to turn over the whole and how to decorate the surface.
Please don`t miss to watch the moment when the dried bonito flakes are sprinkled.  I thought that the moment was very funny when I was a child.
Also, please be aware of  the taste of the OKONOMIYAKI sauce which is a bit sweeten. This is because it contains some vegetables and fruits as the ingredients.
There are so many brands of OKONOMIYAKI sauces available in our supermarkets, too.  Especially, people in Osaka area have their favorite brands and always keep them in their refrigerators.
The ingredients of OKONOMIYAKI are very simple so usually I make OKONOMIYAKI at home.  If OKONOMIYAKI becomes your favorite, you can probably make your originals at your home country, too.
Thank you for reading my report.  🙂