"MOS BURGER" CREATES THE BURGERS IN JAPANESE STYLE.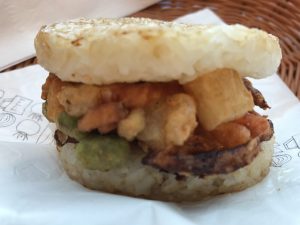 RICE BURGER  "KAISEN KAKIAGE"
Features
☆ The first "TERIYAKI" burger in Japan was introduced by "MOS" in 1973.
☆ "MOS" starts cooking after your order so it takes some times for the receiving.
☆ The vegetables are very fresh.
☆ Side menu and desserts are also popular.
☆ Japanese size:
small compared to the foreign brand burgers.
☆ Special burgers are also available.
➡ Rice burgers
➡ Say burgers
➡ Lettuce burgers ("NATSUMI")*limited edition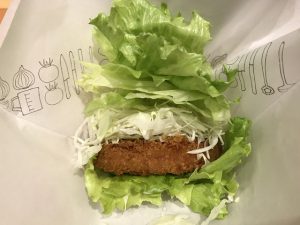 Price Range
a combo around JPY 1000 per person
My Recommendation
☆ MOS Rice Burger – "Kaisen Kakiage" (deep-fried mixed seafood tempura)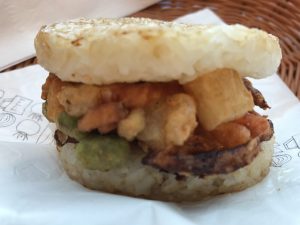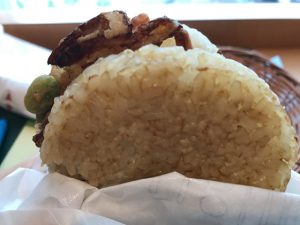 💡 The grilled rice with Soy Source  &  The salty sauce is excellent!
☆ Teriyaki Soy Burger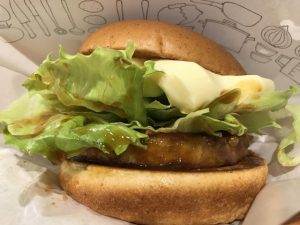 💡 This is real TERIYAKI sauce! The soy pate is very tasty!
☆ MOS Chicken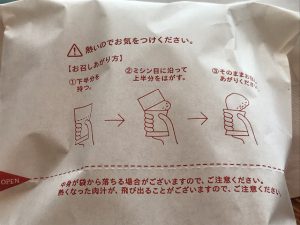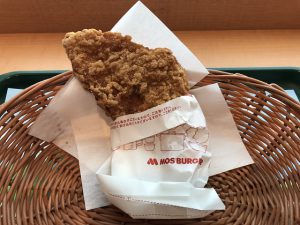 💡 Very crispy!  Popular, especially quickly sold out on the Christmas season in Japan.
☆ Genmai Flake Shake Acai Mixed Berry*limited period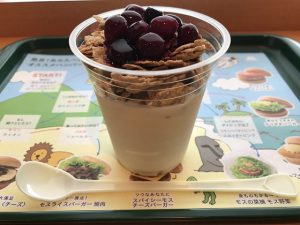 💡 GENMAI means the unpolished brown rice which is rich in nutrition.  These GENMAI+BERRIES+SHAKE are the perfect match. Excellent!!
Where you can find in Japan
TOKYO – origin
Nationwide (1354 shops)*as of 2017
The locations and addresses in English are not available in "MOS"`s website.
For locations, please enter "MOS BURGER" in Google Map.
THE SHOP SIGN


References:
"MOS BURGER"`s website.
http://mos.jp/
*written in Japanese only

All pictures are taken by mie.
All are as of 2017.




From my point of view  🙂
The impression of "MOS BURGER" is recognized as "a bit expensive but qualities are high in its ingredients and services."  For example, the vegetables are very fresh.  According to the "MOS", the vegetables are coming from the contracted farmers.  Also, the "MOS" staffs are very friendly and thoughtful.  One day, I ordered a combo with a soup instead of a drink but a glass of water was there already on my tray without asking from me!!
I believe, since "MOS" started in 1972, "MOS" keeps trying to create the new versions of burgers for people.  "MOS" created the "Teriyaki Burger" and the "Rice Burger" for Japanese people, the "Soy Burgers" for people who don`t prefer eating meats, and the "Lettuce Burger" for people who go on diets trying to avoid the extra calories.  That`s why "MOS" is loved by people.
At last, not only "MOS" but also it is very common in Japan that the size of burgers are  smaller.  I hear most foreigners are surprised to see them how small they are compared to their usual sizes.  It may be one of the culture differences but I, as Japanese, sometimes feel one burger is not enough.  Someday, if I see the bigger burger to the international standard? in "MOS" menu list, I will be very happy.
Thank you for reading my report.  🙂