IGA CITY "IGA-RYU NINJA MUSEUM"
MEET AND LEARN ABOUT THEIR PERFORMANCES AND THE STYLE OF "IGA-RYU NINJA" IN THEIR HOMETOWN, IGA CITY IN MIE.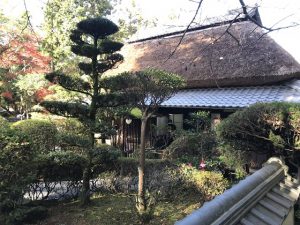 What is "IGA-RYU NINJA"?
There are two areas which are known as the hometown of Ninja in Japan.
"IGA" area and "KOGA (KOKA)" area.
"-Ryu" means the style or way.
💡 It was said that "IGA-RYU NINJA" was trained to be more offensive.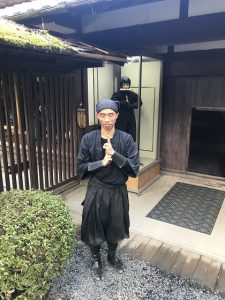 Features
☆ Very famous for the "Ninja Show."
☆ A Ninja guides the inside of "Ninja House."
☆ Exhibits real collections related to Ninja.
☆ Well explanatory in English, too.
☆ Located in the park around IGA UENO Castle.
☆ The rental costume of Ninja is available at "Danjiri Museum*"
*Other place.
Walking in 5 minutes distance.
*Rental Fee is required. (around JPY 1000)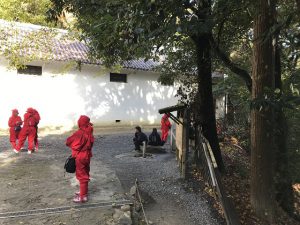 Price/Admisstion Fee
Adult (over 16) : JPY 700 + tax
Children (4-15): JPY 400 + tax
<Groups and other rates are also available>
💡 Additional fee is required for:
"Ninja Show"
Please pay JPY 400 per person before the show.
"Shuriken Throwing"
Please pay JPY 200 for 5 throws.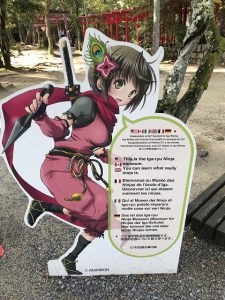 My Recommendation
"NINJA SHOW"
💡 Using the real swords and weapons.
2 or 3 times a day.
Please check the website.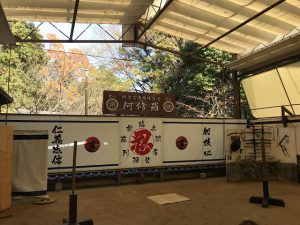 "NINJA HOUSE"
With the attendance of the Ninja guide & tricks.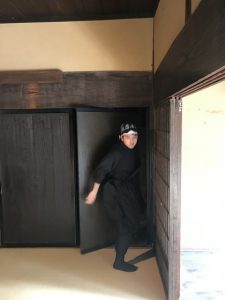 "NINJA EXPERIENCE PACKAGE"
💡 Let`s complete the missions!!
It is the collaborated tour package:
HOTEL:     "Misugi Resort"
TRAIN :    "Iga Ninja Railway Company"
FACILITY: "Iga-Ryu Ninja Museum"
For more details, please refer to:
http://www.misugi.com/ninja.html
Access/ How to get there
By Train
<The Closest Station>
UENOSHI Station (IGA Line on IGA Railway)
10 minutes away by walking.
OR
<The Closest Sation on JR>
JR IGA UENO Station
30 minutes by walking.
5 minutes by taxi → Recommended.
By Car
Parking : Available around the IGA UENO Castle with fee.
Please search "IGA-RYU NINJA MUSEUM" on Google Map.
References
Iga-Ryu Ninja Museum website:
http://www.iganinja.jp/?page_id=837
Misugi Resort website:
http://www.misugi.com/ninja.html
All pictures are taken by mie.
All are as of 2018.




From my point of view  🙂
It was my first visit to Iga in my life.  Iga is located in the middle of Japan and located between Osaka and Nagoya so that I always passed through.  However, I found many of the old Japanese cultures here in Iga.
Especially, Iga is well-known for Ninja!!  I strongly recommend to watch the "Ninja Show."  They use the real Ninja weapons to perform their show which is quite scary, but they do not forget to make us smile by joking sometimes.
By the way, if you are interested, the final stage of "Iga-Ryu Shuriken Throwing Competition" is hold every year here.  To be the participants, you must enroll regionally and must be qualified to go onto the final stage.  The first prize is "The Gold Shuriken." Because it is held in open space, audiences are welcome,too.
For more details, please check with "Iga-Ryu Ninja Museum."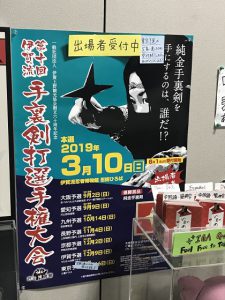 If you visit thie area, you can also see Iga Ueno Castle, Iga Kumihimo Braiding Center, and Dangiri Museum.  There are all walk-able distance between.  So it may be a good idea to spend your day around this area.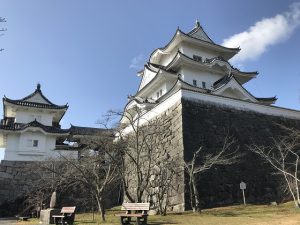 < IGA UENO CASTLE >
Thank you for reading my report.  🙂